Pesticide-Free options for mosquito, tick repellents, etc.
Posted in Nourishment for the Mind » Learn on Thursday, April 22, 2010
How to Safely Repel Bugs, Ticks, Lice and Mosquitoes ...
Find Out Now to Avoid the Coming Infestation Explosion!
by www.SixWise.com
You've heard the phrase "April showers bring May flowers" … well spring rains combined with warm temperatures are also a prerequisite for bringing all kinds of creepy crawly bugs out of their hiding places.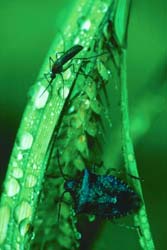 A heavy season of snow and rain has resulted in prime breeding ground for buzzing, biting and creepy crawlies of all kinds ... from mosquitoes to spiders and everything in between!
Due to the early warming trend and heavy spring rains that occurred across much of the United States, many areas are seeing an explosion of insects coming seemingly out of nowhere. This explains why you, too, have likely noticed more insects, and larger insects, in your home and yard … even earlier than in seasons past.
While there are seemingly many insect repellant options on the market, few are actually safe and effective. Many repellants, such as those that contain DEET, can be more hazardous to your health and your family's health than the bug bite itself.
Take a minute to truly know and learn what is safe and effective.
A Warning About DEET Insect Repellants
Your first instinct to get rid of pests may be to purchase a strong insecticide to spray around your yard, home or on your body. However,
pesticides can be extremely hazardous
, as can DEET, the active ingredient in most insect repellants.
In fact, studies conducted at Duke University have found that using DEET frequently or for extended periods may damage your brain cells, resulting in:
Memory loss

Headache

Weakness and fatigue

Muscle and joint pain

Tremors

Shortness of breath
While the EPA maintains that the chemical is safe when used correctly, studies have shown that when used in high amounts, or for long periods of time, DEET is far from safe.
According to studies by Mohamed Abou-Dania, a professor at Duke University, while lab rats had no reaction to DEET when it was used for 30 days, after 60 days their brain cells started to die. This chemical has also been shown to cause nervous-system damage, including:
It may take months or years for such symptoms to develop, making it difficult to establish DEET as the cause, Abou-Donia said.
"The take home message is to be safe and cautious when using insecticides," Abou-Donia told DukeHealth.org. "Never use insect repellents on infants, and be wary of using them on children in general. Never combine insecticides with each other or use them with other medications. Even so simple a drug as an antihistamine could interact with DEET to cause toxic side effects. Don't spray your yard for bugs and then take medications. Until we have more data on potential interactions in humans, safe is better than sorry."
Scientists are worried that DEET may collect in the sediment of streams and prove toxic to birds, fish and other wildlife.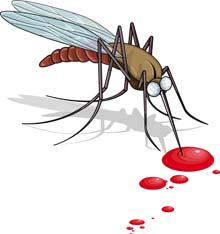 Don't let the name fool you ... Lice B Gone works as an excellent repellent of mosquitoes, flies, sweat bees, gnats and more. Simply spray it on exposed skin or mist your home or yard, and it is a very effective, natural repellent for about three hours!
A Safe Pesticide-Free Solution to Pest Infestations
You and your family can safely repel all kinds of insects naturally, with no health risk and no toxic chemicals, by using
all-natural Lice B Gone
. Please don't let the name fool you … it's effective against much more than just head lice and can control in-home pests including ants, bees, flies, mosquitoes, gnats and more.
This is a gem of a product that is little known and not heavily marketed because it is manufactured by a small natural business in southern Illinois. The scientific developer was holistically focused on the health and well-being of our children first and foremost, so he developed both
Lice B Gone
and
Flea 'n Tick B Gone
, which safely removes fleas and ticks from pets (and also doubles as a safe insect repellant for other pests, too!).
Lice B Gone is an ideal alternative to DEET-containing repellants because it's an enzyme-based formula made naturally from plant resources.
It is even safe enough to spray directly onto your skin, plus, you can use it as an entirely non-toxic insect repellant for your backyard, home or picnic area. Just mist the area or your skin and you're tick- and bug-free for about three hours!
Remember,
Lice B Gone
is a proprietary blend of water and non-bacterial enzymes (amylase, cellulase, lipase, protease) from plant origin. It is biodegradable and ecologically harmless to aquatic, plant and animal life … including you and your family!
So while enjoying the spring and summer weather, don't put your health at risk by spraying toxic DEET-based insecticides on your skin, or using chemical pesticides around your home. Lice B Gone is a safe and highly effective alternative that will become a favorite staple in your home!